About Us
Sisters in Crime Australia Inc
Celebrating Women's Crime Writing Since 1991
The Plot: To celebrate women's crime writing on the page and screen and bring a collective critical eye to the field.
Launched at the Feminist Book Festival in Melbourne in September 1991, Sisters in Crime in Australia was inspired by the American organisation of the same name, which was founded in 1986 by Sara Paretsky (creator of Chicago PI VI Warshawski) and other women crime writers at the Bouchercon crime convention.
The Motive: To share our collective passion for women's crime writing.
Modus Operandi:
To bring together women crime writers, screen-writers, producers, booksellers, publishers, lawyers, judges, police, forensic specialists, librarians, academics, and critics but in the main, readers and viewers
To discuss and analyse books, film and television shows, law and justice issues, new trends and critical issues of the crime genre
To explore the contemporary issues at the heart of much crime fiction as well as dissecting its rich history
To promote the professional development of women crime writers, especially emerging writers
To provide opportunities for networking between writers, publishers and producers and between writers and their readers and viewers
To have fun – and lots of it.
Body Of Evidence
Usual suspects: A 550 strong membership with chapters in Melbourne, Perth and Brisbane  Events are open to members of the public. Men or 'brothers in law' are welcome to attend events and join.
Suspicious behaviour: In Melbourne (where most members live), Sisters in Crime hosts a busy yearly calendar of events including interview panels, debates, book launches, quiz nights and tours of places such as the Victorian Institute of Forensic Medicine and the Victoria Police Museum.
The Brisbane Chapter holds regular events at Avid Readers Bookshop & Cafe.
In Perth, Sisters in Crime meets as an occasional book discussion group.
Crime Pays (for some)
Sisters in Crime Australia's annual crime short story competition, the Scarlet Stiletto Awards, is open to women only. It has attracted nearly 3000 stories since it began in 1994. The overall winner receives a cash prize plus coveted trophy, a scarlet stiletto shoe with a steel stiletto heel plunging into a perspex mount.
Closing date for the 2016 awards is 31 July (a month earlier than usual). Entry fee is $15 (Sisters in Crime members) or $20 (others). Maximum length is 5000 words. Prize money is still being finalised but in 2015 it amounted to $9350.
Click here for more details.
Crime Doesn't Pay (for Others)
Sisters in Crime has no paid staff or funding – just keen volunteers. National co-convenors, elected at the Annual General Meeting, take responsibility for running the organisation.
There are currently 11 National Co-convenors. Click here for more details.
By the Book
The Davitts, Sisters in Crime Australia's national awards for the best published crime books by Australian women, were first presented at SheKilda Women's Crime Convention in 2001 – by then Victoria Police Commissioner, Christine Nixon.
Awards are currently presented in six categories –  Best Adult Novel; Best Young Adult Novel; Best Children's Novel; Best Non-fiction Book; Best Debut Book (any category); and Readers' Choice (as voted the 600 members of Sisters in Crime Australia). Winners receive a handsome trophy.
The awards are named in honour of Ellen Davitt (1812-1879) who wrote Australia's first mystery novel, Force and Fraud, in 1865.
Click here for more details about the history of the Davitt Awards.
Click here for details about entering the 2016 Davitt Awards.
Partners in Crime
Sisters in Crime Australia also hosts events with other partners such as Readings Books Music and Films, Athenaeum Library, S Kilda Library, the Wheeler Centre, the Melbourne Writers' Festival,  the Bayside Literary Festival, the Williamstown Writers' Festival, Blarney Books & Arts in Port Fairy, the Police Museum, Ballarat Writers Inc. and the National Gallery of Victoria.
Sun Bookshop in Yarraville runs the bookstall at its regular Melbourne events. Shekilda3: A One-Day Crime Spree
Sisters in Crime Australia will mark its 25th anniversary with a one-day convention, SheKIlda3, in November at St Kilda Town Hall, Melbourne where it held its 10th anniversary SheKilda Women's Crime Convention in 2001 – the first women's crime writing convention held anywhere in the world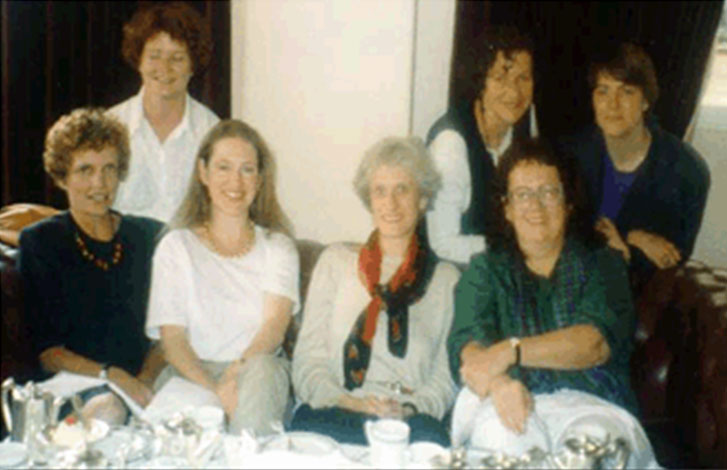 The founder of Sisters in Crime USA meets Sisters in Crime Australia in 1994. Front, (L to R): Helen Halliday, Sue Turnbull, Sara Paretsky, Carmel Shute. Back, (L to R): Jane Inglis, Renata Singer, Lindy Cameron