Carmel Shute & Lucy Sussex talk crime at Alex Cafe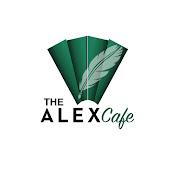 Crime is in the spotlight in the latest episode of Alex Cafe , a fortnightly series that deals with the business of creative writing. The half-hour show is shot at St Kilda's Alex Theatre, a bit further up the street from Leo's where Sisters in Crime met for 16 years (in the backroom, just past the men's toilets). Susan Berg, ultra-marathon swimmer, motivational speaker and author and Dick Gross, former mayor of the City of Port Phillip and author, did the interrogating.
In Episode 13, Susan and Dick interrogated Carmel Shute, co-founder and secretary of Sisters in Crime, which turns 30 this year (1-13 mins) and then another Sister, Lucy Sussex, one of the contributing authors to The Only One in the World: A Sherlock Holmes Anthology (Clan Destine Press) (13-22 minutes). Lucy also talked about Blockbuster (Text Publishing), her award-winning biography of Fergus Hume, author of The Mystery of a Hansom Cab, much of which was set in St Kilda. Amazingly, it  outsold the Sherlock Holmes books in the 1880s.