Fall by Candice Fox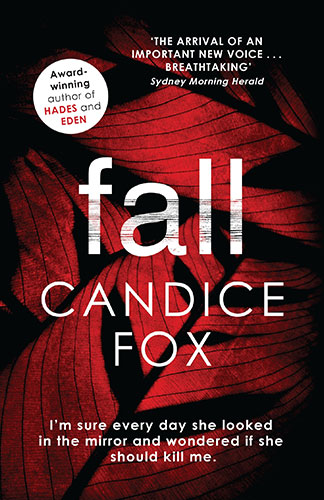 Author: Candice Fox
Publisher: Random House
Copyright Year: 2015
Review By: Anne Buist
Book Synopsis:
If Detective Frank Bennett tries hard enough, he can sometimes forget that Eden Archer, his partner in the Homicide Department, is also a moonlighting serial killer . . . Thankfully their latest case is proving a good distraction. Someone is angry at Sydney's beautiful people – and the results are anything but pretty. On the rain-soaked running tracks of Sydney's parks, a predator is lurking, and it's not long before night-time jogs become a race to stay alive. While Frank and Eden chase shadows, a different kind of danger grows closer to home. Frank's new girlfriend Imogen Stone is fascinated by cold cases, and her latest project – the disappearance of the two Tanner children more than twenty years ago – is leading her straight to Eden's door. And, as Frank knows all too well, asking too many questions about Eden Archer can get you buried as deep as her past
This is third of the trilogy where the first two got consecutive Ned Kelly awards—so just a little pressure! Hades introduced us to an edgy world based in a tip decorated with sculptures from garbage that also hides bodies, and Eden gave us more background into Hades' world that made him what he was—and what Eden and Eric had become. Fall now follows Eden's police partner Frank and his take on the Eden as they work on a serial killer targeting female joggers in Sydney's parks—and Frank's narcissistic girlfriend Imogen and her need to work out who Eden really is.
This is a gritty, violent police procedural with a dark psychological twist not just involving the serial killer—well there are really two here given Eden's proclivities. The "main" plot is compelling enough, but it was Eden and her story—and the new character Hooky, a 17 year old trauma victim set to be Hades new protégé—that had me turning the pages until the early hours. This is a book about darkness; in many ways it is a pity that the (main) serial killer had to be there to display it, because the authenticity of this book is not just in the crimes but in the human damage and fallout from it.
Hades is the most original of the three books, but I loved the edgy levels the author takes us in this book—choices, damage and the results. Maybe played out to extremes here beyond what most of us will (thankfully) ever see, but real enough to make us think. The characters—Eden, Hooky and Frank—jump off the page, or have us jump into the book trying to save them and yelling No. I am not sure that I really see why Eden is so set on not having her real identity outed, which means I struggle to make sense of her decision at the end—but this is I think in part the point. We are pushed to cast judgement on her in a way that up until this time I hadn't—which is curious given the body count. Maybe because she was only killing bad guys, and saved Frank in the last book. I would have liked a showdown with Imogen but we get something more thought provoking.
A ripping read from an original voice—I hope she can maintain it in her collaboration with James Patterson, and more importantly, that she continues to write in her own right and I look forward to the next instalment of Eden (with some nervousness too!).
Rating? For my taste too violent but if I put that aside, 4.5.