Record $10,000 on offer for the 23rd Scarlet Stiletto Awards Crime Short Story Competition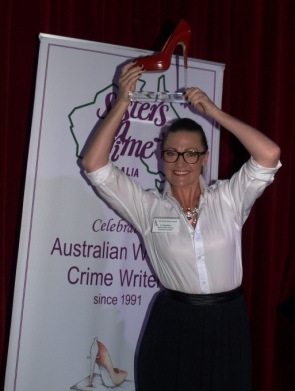 Text Publishing, which won the Australian Book Industry Awards Small Publisher of the Year in 2012, 2013 and 2014, has added another arrow to its bow – sponsorship of the $1500 first prize in the 23rd Scarlet Stiletto Awards, Sisters in Crime Australia's annual short story competition.
Publisher Michael Heyward said that Text Publishing was honoured to support women's literary talent of the criminal bent.
"For more than two decades the Scarlet Stiletto Awards have played an unparalleled role in discovering and nurturing Australian women crime writers. One of Text's authors, Angela Savage, won 3rd prize in 1998 and in 2004 went on to win the Victorian Premier's Award for An Unpublished Manuscript for a novel featuring the same sleuth. Text then published the book as Behind the Night Bazaar and two more in the Jayne Keeley series," he said.
"Crime has been a staple of our publishing program from our earliest days. This year, for instance, we're proud to be publishing the second books in crime series by Anne Buist and Sue Williams."
National Co-convenor, Michaela Lobb, said Sisters in Crime was thrilled with this top level support.
"Text Publishing has a wonderful track record in both publishing crime and supporting its writers," Lobb said.
"We're also excited that Simon & Schuster, which is publishing crime writers such as Ann Turner, Sara Foster and Aoife Clifford, winner of the 2007 Scarlet Stiletto Award and numerous other category awards) is the sponsor for 2nd prize ($1000). Every Cloud Productions, the producer of Miss Fisher's Murder Mysteries, is offering a new award for the best mystery with history story ($750)."
A record $10,000 is on offer this year – up $650 from last year. Stories must have a crime or mystery theme, a female protagonist and a female author. The awards are amongst the richest short story competitions in Australia.
As well as receiving Text publishing 1st Prize of $1500, the overall winner will be presented with the coveted trophy, a scarlet stiletto with its steel heel plunging into a perspex mount.
This year's Scarlet Stiletto Awards will be the climax of Sisters in Crime's 25th anniversary convention, SheKilda3: One Day Crime Spree, at St Kilda Town on 19 November. To mark the special occasion, a Silver Stiletto Award will be presented. Sponsored by Kerry Greenwood, a founding members of Sisters in Crime, the Silver Stiletto will be open to previous shoe (1st prize) winners.
As five authors have won the Scarlet Stiletto Award twice – Cate Kennedy, Christina Lee, Roxxy Bent, Janis Spehr and Josephine Pennicott – the Silver Stiletto Award is open to only 17 writers even though the award celebrates its 23rd anniversary this year. Two-time shoe winners are always ruled out of further entries and invited to become judges. While they will still be eligible to judge the general competition this year, a special panel will judge the Silver Stiletto Award. Over the past 22 years, only Cate Kennedy has won a matching pair of stilettos.
Melbourne's Athenaeum Library is again offering a prize of $1000 and a runner-up prize of $500 for the best short story that includes the words 'body in the library'.
The full list of awards includes:
The Text Publishing Award: 1st Prize: $1500
The Simon & Schuster Award: 2nd prize: $1000
The Sun Bookshop Award: 3rd Prize: $500
Allen & Unwin Award for Best Young Writer (under 18): $500
Silver Stiletto Award: $1000
The Athenaeum Library 'Body in the Library' Award : $1000 ($500 runner-up)
The Every Cloud Award for Best Mystery with History Story: $750
Kerry Greenwood Award for Best Malice Domestic Story: $750
HarperCollins Publishers Award for Best Romantic Suspense Story: $500
Scarlet Stiletto Award for Best Environmental Crime Story: $500
Scarlet Stiletto Award for Best Financial Crime Story: $500
Clan Destine Press Award for Best Cross-genre Story: $400
Liz Navratil Award for Best Story with a Disabled Protagonist Award: $400
Scriptworks Award for a Great Film Idea: $200
Lobb said Sisters in Crime was delighted with the increased prize money but, most especially, with the success of the awards in unearthing so much literary criminal talent over the past two decades.
To date, 2,926 stories have been entered with 21 Scarlet Stiletto Award winners –including category winners – going on to have novels published: Cate Kennedy, Tara Moss, Annie Hauxwell, Angela Savage, Josephine Pennicott, Ellie Marney, Sarah Evans, Inga Simpson, Alex Palmer, Liz Filleul, Margaret Bevege, Patricia Bernard, Bronwen Blake, Jo McGahey, Cheryl Jorgensen, Kylie Fox, Simmone Howell, Emilie Collyer, Sandi Wallace, Aoife Clifford and Amanda Wrangles. "
"The great variety of awards on offer should appeal to all sorts of different literary sensibilities, from the cosy and romantically inclined to the hard-boiled and speculative – and those who like history with their mystery," Lobb said.
Last year, the Awards attracted 191 entries. They were presented by Danielle Cormack, star of Wentworth.
Three collections of winning stories have been published by Clan Destine Press: Scarlet Stiletto: The First Cut, Scarlet Stiletto: The Second Cut and Scarlet Stiletto Short Stories: 2013 (ebook). http://clandestinepress.com.au/
Closing date for the awards is 31 July 2015. Entry fee is $15 (Sisters in Crime members) or $20 (others). Maximum length is 5000 words. Click here to pay entry fee: https://scarlet-stiletto-competition-entry-2016.eventbrite.com Click here to download entry form: Scarlet Stiletto 2016 Download FAQs: Scarlet Stiletto Awards FAQs
Media comment: Michaela Lobb, National Co-convenor, Sisters in Crime Australia:  0409 431 397 or michaelalobb@hotmail.com