Sisters in Crime's Davitt Awards triumph women crime writers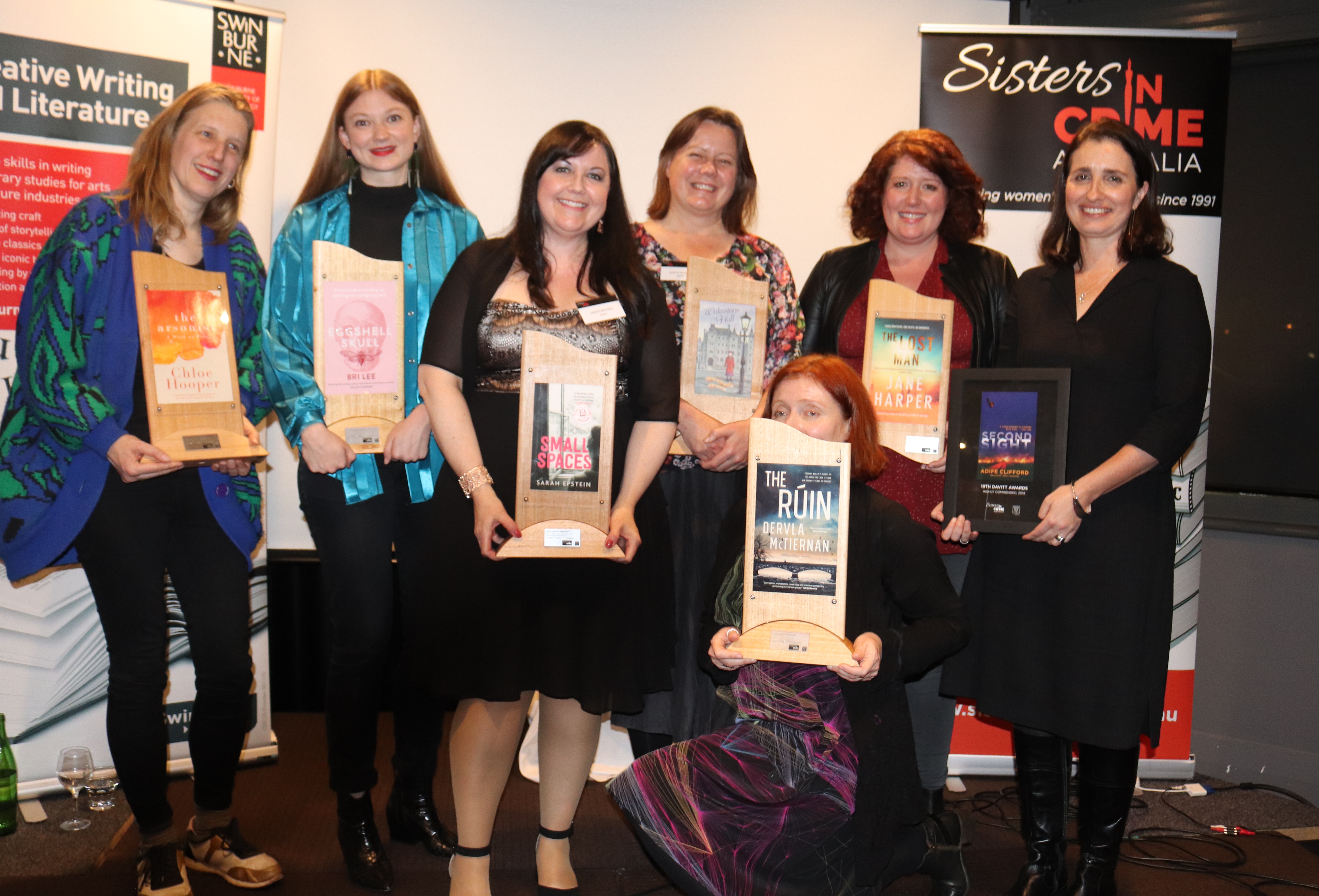 Perth-based author Dervla McTiernan won the best adult novel award for her debut Irish police procedural, The Rúin (HarperCollins Publishers Australia) at Sisters in Crime's 19th Davitt Awards for best crime books by Australian women on Saturday night (31 August).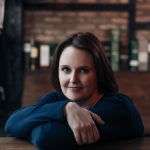 McTiernan is one of the many Australian women's crime writers enjoying massive popularity and attracting world-wide attention, Jacqui Horwood, the Davitt Judges wrangler, said.
"Australian women crime writers are notching up impressive numbers of awards both here and overseas. Increasingly their books are being translated to the screen, again with much acclaim. Liane Moriarty, winner of the 2015 Davitt (Best Adult Novel), is now a household name thanks to the success of the two series of Big Little Lies. With the filming of The Dry, a similar fate awaits Jane Harper. Candice Fox's Crimson Lake is being into a six-part TV series," she said.
The Rúin has been shortlisted for more than five awards and last week it was announced that it's being made into a film starring Colin Farrell. McTiernan spent twelve years working as a lawyer but, following the global financial crisis, moved from Ireland to Australia and turned her hand to writing. Being shortlisted in Sisters in Crime's Scarlet Stiletto short story competition in 2015 spurred her on to doing five drafts of her novel.
"In many ways my writing career started with the Sisters in Crime Scarlet Stiletto short story competition, so to have won the Davitt feels like coming full circle," McTiernan said.
The judges reported: "The Rúin grips you by the throat from the opening the scenes… and never lets ago. The judges loved the atmosphere and the twists and turns that kept us hooked and guessing until the end". The Rúin was a top ten bestseller and an Amazon Best Book of July 2018.
McTiernan was unable to attend the awards and sent her acceptance speech by video: https://vimeo.com/357446123
The appropriately-named Ann Byrne, a Life Member of Sisters in Crime, won the Be Immortalised in Fiction competition which means her name will go in a forthcoming novel by McTiernan.
Sydney author, Bri Lee, took out the debut award for Eggshell Skull (Allen & Unwin), about her journey through the criminal justice system as both a victim of sexual assault and a lawyer. Eggshell Skull, described by the judges as "pulling no punches on a highly sensitive topic", has won several awards including the Biography of the Year at the ABIAs.
Melbourne writers otherwise scooped the awards, winning four of the six awards plus a highly commended.
The Davitt (Best Young Adult) went to Sarah Epstein, for her debut novel, Small Spaces (Walker Books); the children's award to Judith Rossell for Wakestone Hall (ABC Books), the final in her Stella Montgomery trilogy; the non-fiction award to Chloe Hooper for her book on the Black Saturday fires, The Arsonist (Penguin Random House); and readers' choice to Jane Harper for her outback thriller The Lost Man (Pan MacMillan Australia). Aoife Clifford was highly commended for her second Eliza Carmody novel, Second Sight (Simon & Schuster).
This year a record 127 crime books published by Australian women in 2018 competed for the awards. Twenty-five made it to the shortlist. Several of the winning books have already taken out awards and a number of the authors are much-awarded for their work.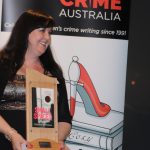 Small Spaces, Epstein's debut novel, has been shortlisted for numerous awards including the NSW Premier's Literary Awards and the Australian Book Industry Awards. It was also named an Honour book by the Children's Book Council of Australia. According to the judges, "This book is a genuinely creepy thriller that scared one judge so much she could barely muster the courage to finish it". Epstein's next YA crime novel will be released in 2020.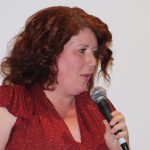 St Kilda-based Harper has won the Davitt readers' choice award for three years running. Her debut book, The Dry, took out the Davitt (Best Adult Novel) plus the CWA Gold Dagger Award for Best Crime Novel, the British Book Awards Crime and Thriller Book of the Year, the Australian Book Industry Awards Book of the Year and the Australian Indie Awards Book of the Year. Filming of The Dry, starring Eric Bana, finished in April.
Each book in Rossell's trilogy has won the children's Davitt award. According to the judges, "Wakestone Hall ends the Stella Montgomery series on a high". Rossell, a scientist by training, has written fifteen books and illustrated more than eighty. Her work has been published in the US and UK, and translated into more than twenty languages. (Pictured here with Dr Joanne Drayton.)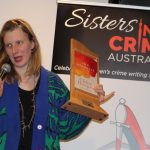 Hooper has won two Davitts previously – one for her much awarded non-fiction book, The Tall Man: Death and Life on Palm Island, in 2009 and one for A Child's Book of True Crime, the joint winner of the 2003 Davitt (Adult Fiction).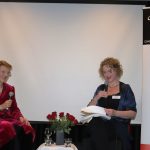 Award-winning New Zealand crime author, Dr Joanne Drayton, presented the awards at South Melbourne's Rising Sun after first talking first about her 'life in crime', with Emma Viskic, who has four Davitts under her belt for her series featuring the deaf sleuth, Caleb Zelic. Dr Drayton had the audience in stitches with one publisher's rep describing her "as better than Ellen Degeneris".
Horwood (pictured left with Emma Viskic), who is standing down after ten years as a Davitt judge, told the crowd, "Two things stood out for us this year – the sheer number of fabulous debut books (51 in all) and the high standard of non-fiction writing.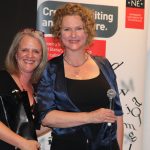 "It's heartening to know that publishers are taking a chance with first time writers and these writers are producing such accomplished debut books. This can only mean well written second and third books. It bodes well for readers of crime.
"With the non-fiction books, we 've always had stand-out books but this year the sheer volume of well-written, well-researched and well-considered books was a joy for the judges. There's been a renewal in interest for true crime, helped by podcasting, and the outcome for us as readers is an amazing array of books covering important issues like mental health, intellectual disability, terrorism, family violence and childhood sexual abuse."
The sponsor for the 2019 Davitts was again Swinburne University of Technology.
The Davitts, named after Ellen Davitt, the author of Australia's first mystery novel, Force and Fraud, in 1865, cost publishers nothing to enter. The awards are handsome carved polished wooded trophies featuring the front cover of the winning novel under perspex. No prize money is attached.
The judging panel for 2019 comprised YA expert and author Dr Kelly Gardiner, forensic specialist Debbie Stephen and Sisters in Crime national co-convenors Moraig Kisler and Pauline Meaney and former convenors, librarian Jacqui Horwood and public servant Michaela Lobb.
For the full Davitt script, to  Davitt Awards script 2019 – website
Media comment: Jacqui Horwood, Davitt Judges' Wrangler. on 0449 703 503; jacqui.horwood@gmail.com
Author interviews: Carmel Shute, Secretary and National Co-convenor, Sisters in Crime Australia: 0412 569 356 admin@sistersincrime.org.au (more photos available)