The Davitt Awards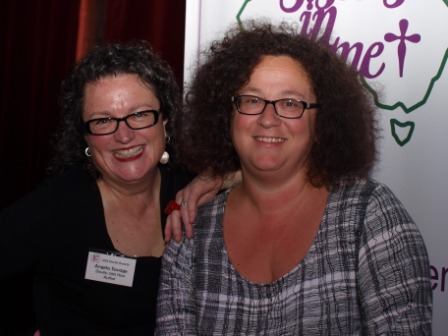 Sisters in Crime Australia launched the Davitt Awards for best crime books by Australian women at its 10th anniversary convention, SheKilda 2001 to provide some much needed – and overdue – recognition for Australian women crime writers.
At that stage, women barely got a look in with the Ned Kelly Awards for crime writing. While women now occasionally win a Neddy, they are still unrepresented generally when it comes to awards, reviews and opportunities.
Since 2001 the Davitts have played a pivotal role in getting women's crime writing published and better recognised. Back in 2001 only 7 books were in contention, although the awards did not then apply to non-fiction. In 2015, by contrast, 96 books were in the running.
Six Davitt Awards are presented annually: Best Adult Novel; Best Young Adult Novel; Best Children's Novel; Best Non-fiction Book; Best Debut Book (any category); and Readers' Choice (as voted the 600 members of Sisters in Crime Australia).
Voting by Sisters in Crime members on the 2016 Davitt (Readers' Choice) will close on Wednesday, 27 July 2016. Members will be notified electronically to vote via Eventbrite or, in a few instances, by snailmail. Click here for a full list of the 77 books in contention.
The awards are handsome carved polished wooded trophies featuring the front cover of the winning novel under perspex. No prize money is attached.
The Davitts, named after Ellen Davitt, the author of Australia's first mystery novel, Force and Fraud, in 1865, cost publishers nothing to enter. An e-book of Force and Fraud was published by Clan Destine Press in 2015 to mark its 150th anniversary.
The judging panel for 2016 comprises Sisters in Crime national co-convenors, Maggie Baron and Michaela Lobb; former convenor Jacqui Horwood; forensic specialist Debbie Stephen; Readings Bookshop bookseller and writer Deborah Crabtree; and Sun Bookshop owner, Deb Force.
The 2016 Davitt Awards are proudly sponsored by Booktopia, Australian pre-eminent online bookseller and will be presented by Australian crime writer and global literary sensation Liane Moriarty at a gala dinner at Melbourne's Thornbury Theatre on Saturday 27 August, 7pm, after she talks about her 'life in crime' with true crime author Vikki Petraitis. Click here to book by 23 August 2016.
Previous Davitt Awards have been presented by UK crime writer Sophie Hannah (2015); South African crime writer Lauren Beukes (2014); New Zealand crime writer Vanda Symons (2013); Swedish crime writer Asa Larsson (2012); Singapore crime writer Shamini Flint (2011), Scottish crime writer Val McDermid (2010); Justice Betty King (2009), Judge Liz Gaynor (2008); Walkley-winning investigative journalist Estelle Blackburn (2007); true crime writer Karen Kissane (2006); Sisters Inside's Debbie Killroy (2005); US crime writer Karin Slaughter (2004); Val McDermid (2003); ACTU President Sharan Burrow (2002) and Chief Commissioner, Victoria Police Christine Nixon (2001).
2015 Davitt winners were:
Best Adult Novel: Big Little Lies (Pan Macmillan Australia) by Liane Moriarty (Note: Big Little Lies was the first Australian book to debut at number one on the New York Times bestseller list. Rights were acquired by Nicole Kidman and Reese Witherspoon who will both take roles in a television series which began filming in January.
Best Young Adult Novel: Every Word (Allen & Unwin) by Ellie Marney
Best Children's Crime Novel: Withering-by-Sea (Harper Collins) by Judith Rossell
Best Debut Book: Intruder (Woolshed Press – a Random House imprint) by Christine Bongers
Best Non-Fiction: Last Woman Hanged (Harper Collins) by Caroline Overington
Readers' Choice: Tell Me Why (Clan Destine Press) by Sandi Wallace