The Scholar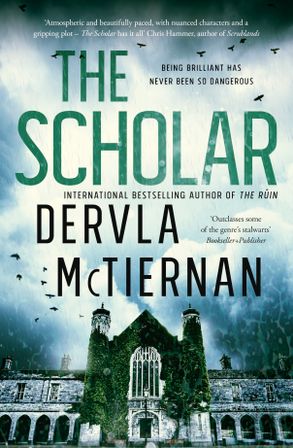 Author: Dervla McTiernan
Publisher/Year: HarperCollins/2019
Publisher Synopsis
Being brilliant has never been this dangerous …
When Dr Emma Sweeney stumbles across the victim of a hit and run outside Galway University late one evening, she calls her partner, Detective Cormac Reilly, bringing him first to the scene of a murder that would otherwise never have been assigned to him.
A security card in the dead woman's pocket identifies her as Carline Darcy, a gifted student and heir apparent to Irish pharmaceutical giant Darcy Therapeutics. The multi-billion-dollar company, founded by her grandfather, has a finger in every pie, from sponsoring university research facilities to funding political parties to philanthropy – it has funded Emma's own ground-breaking research. The enquiry into Carline's death promises to be high profile and high pressure.
As Cormac investigates, evidence mounts that the death is linked to a Darcy laboratory and, increasingly, to Emma herself. Cormac is sure she couldn't be involved, but as his running of the case comes under scrutiny from the department and his colleagues, he is forced to question his own objectivity. Could his loyalty to Emma have led him to overlook evidence? Has it made him a liability?
Reviewer: Sandra Nicholson
This is the second Cormac Reilly book and I'm hoping there are many more to come. Cormac Reilly is working in Galway and being given 'dead-end' jobs by his boss, Brian Murphy, in an attempt to make him move on. However, his colleague Carrie O'Halloran is under the pump and asks Murphy to reassign some of her cases. Murphy assigns a difficult one, the Henderson case, to Cormac, again hoping he will fail. Taking over this case will also see him undermined by one of his own team who is incensed that this case has been taken away from Carrie, even though she had made no progress in the time she had had it. This colleague will also do everything possible to undermine him as he investigates a new case.
While Carrie was briefing Cormac on Henderson, another case comes in and Cormac makes his first mistake by agreeing to take the lead in the investigation. Cormac is now investigating two cases, and attempted murder of a mother and her children (Henderson) and a murder of a young PhD student working in her grand-father's laboratory (Darcy). The Henderson plot examines violence against women and children and how difficult these cases are to investigate due to the reluctance of the victim to believe the facts about someone they believe loves their family and wouldn't do anything to harm them.
The Darcy murder plot revolves around the decisions made when loved ones are involved in the case and questions whether or not objectivity can be achieved, or are assumptions made that influence our actions. It also looks at what can happen if even a moment of doubt creeps into the relationship. It also explores how the circumstances of our birth impact on our lives into adulthood and seeking approval from another can lead us to act dishonestly and eventually to death.
Cormac is a flawed character who has both supporters and detractors within the office. His detractors are active in their attempts to undermine him, which makes life difficult but some of the decisions he makes play right into their hands.
I started this book one Friday night thinking I'd read a few pages before bed! I finished it Saturday afternoon, very sad that it had ended. I just couldn't ration my reading! I wanted to read it slowly to savour the brilliant writing but I kept being led on to the next page. The various threads established early in the book had me wanting to follow them through to the end. I loved it and can't wait for the next Cormac Reilly book.