Toxic families on the small screen: Siobhan Mullany reviews
Sisters in Crime presented a panel event called Toxic Families back in March 2021. These two UK TV series would have fitted right in: Smother, written by Kate O'Roirdan and Deadwater Fell by Daisy Coulam. Both are better known for their non-crime television work.
O'Riordan is a novelist and screenwriter. Her novels explore family relationships. Her screenwriting credits include Mr Selfridges. Daisy Coulam was a writer for the Grantchester series.
Both series are set in small towns, Smother in Ireland, Deadwater Fell in Scotland. Both start off with what appear to be happy, successful families. The inhabitants of both villages become more entangled with each episode. Neither is a police procedural. The police are involved but you, as the viewer, know they do not have all the information.
Smother starts with the death of Val's husband, Dennis, thrown off a cliff near their home after a party. Who killed him? The list of suspects includes the whole family and most of the village. Val herself was about to divorce Dennis but it could be anyone: the daughters, their children, Dennis' brother, Val's lover, the ex-wife of a son-in-law. Dennis didn't play well with others.
As the name suggests, Val's way of protecting her children, and each of the relationships within the small town, are claustrophobic. Over the series each character reveals another layer and another reason to kill Dennis. You trust no one.
All the acting is compelling. Val is played by Dervla Kirwan (remember Ballykissangel, 25 years ago? … hard to believe). The scenery is bleak but spectacular. The houses are fabulous. Behind the lovely façade is menace and manipulation.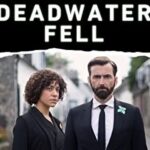 Deadwater Fell has a narrower focus than Smother but the intensity is notched up. It starts with a shocking tragedy, three small children and their mother dead in a house fire. How did the fire start and why? Who is the 'good' parent?
You will recognise David Tennant (Tom) and Cush Jumbo (Jess, she was in Vera and The Good Fight). They, together with all the cast, give compelling performances. The decision made by Jess has this household still discussing whether or not we'd tell.
Smother runs for six 50 minute episodes on iView. Deadwater Fell has four 45 minute episodes on SBS on Demand.
Grab a blanket, take to the couch, and binge.
Click here for the Smother trailer and here for the Deadwater Fell trailer.